Capital Improvements
Capital Improvements 2015/2016 -2020
The damage caused last winter by the ice and cold weather has been repaired in the rectory. The last of the UST (Underground Storage Tank (oil)) was removed from the Church (2), the rectory (1) and St. Louis Chapel (1).
In late spring of 2015, a chairlift was installed in the church to assist parishioners and guests with access to the church and the church hall with ease.
Additional improvements were completed this past summer and fall:
Replaced the rotted and worn front porch at the rectory with a new front porch,
Cement work for the front steps and sidewalk,
Built a new entrance way to St. Patrick's food pantry,
Resurfaced and striped the church parking lot,
Replaced and painted the wall in the stairway to the parish hall on the right hand side of the church.
Our goal for the spring of 2016 is to repair the front steps that need attention and replace the rotted four white columns in the front of the church.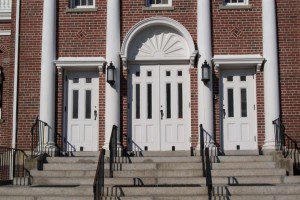 All scheduled improvements have been completed. Thank you.