Prayers To St. Patrick, Our Patron Saint

Who was St. Patrick? 
Patrick was born on the west coast of Britain about 360 A.D. At the age of 16 he was kidnapped by Irish pirates and sold as a slave into the service of a local king. On a rainy hillside tending sheep, he met the Lord and his faith was nurtured over the next several months. He escaped, but God called him to return to the emerald isle as a missionary.
At that time druid priests, deep into black magic and the occult, held the island's inhabitants in a lockgrip. Patrick challenged this demonic stronghold and won, but the victory was neither quick nor cheap. He was imprisoned for months at a time, his only respite from the stress of constant travel and hardship. Yet one after another, tiny kingdoms would finally allow Patrick to declare the good news of Jesus within their borders. He baptized tens of thousands. Hundreds of chapels were erected for the worship of Jesus all over Ireland.
Who was Patrick? A saint of God who gave his life to help people know Jesus by starting mission churches. St. Patrick might feel more comfortable at newly-planted church than even St. Peter's Basilica. After all, he was partial to the challenge and excitement of new churches.
St. Patrick's Breastplate (ca. 389-461 AD.)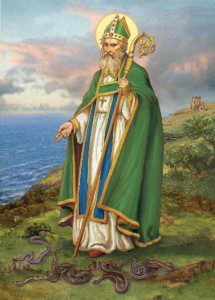 I bind unto myself today the power of God to hold and lead, His eye to watch, His might to stay, His ear to hearken to my need: the wisdom of my God to teach, His hand to guide, His shield to ward; the Word of God to give me speech, His heavenly host to be my guard.
Christ be with me, Christ within me, Christ behind me, Christ before me, Christ beside me, Christ to win me, Christ to comfort me and restore me, Christ beneath me, Christ above me, Christ in the hearts of all that love me, Christ in the mouth of friend and stranger.
I bind unto myself the Name, the strong Name of the Trinity, by invocation of the same, the Three in One, and One in Three, of Whom all nature hath creation; Eternal Father, Spirit, Word: praise to the Lord of my salvation, salvation is of Christ the Lord. Amen.
I bind myself to God's power to guide me, God's might to uphold me, God's wisdom to teach me, God's Eye to watch over me, God's Ear to hear me, God's way to lie before me, God's shield to shelter me, God's host to secure me…Against the snares of demons, against the seductions of vices, against the lusts of nature, against everyone who meditates injury to me, whether far or near, few or many.
Traditional Gaelic Blessing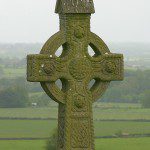 May the road rise to meet you. May the wind be always at your back. May the sun shine warm upon your face. May the rains fall gently upon your fields. And until we meet again, may God hold you in the palm of his hand.