Who was St. Patrick?
St. Patrick, (feast day March 17), is the patron saint and national apostle of Ireland. He is credited with bringing Christianity to Ireland and is probably significantly responsible for the Christianization of the Picts and Anglo-Saxons who inhabited Ireland in the 4th and 5th centuries. Patrick is known from two short works, the Confessio, a spiritual autobiography, and his Letter to Coroticus, a denunciation of British mistreatment of Irish Christians.
The parish encourages all Catholics to take the time to read The Confessio. At only 65 paragraphs or 'chapters' it is a remarkable work for it's economy of prose and the powerful, even searing, self-reflection of it's author. 
Patrick was the son of Romanized Britons who lived an affluent life on the west coast of that country until he was kidnapped by Irish raiders and enslaved sometime around 400 A.D. He spent six years as a slave in Ireland and at this time, his faith deepened and he became convinced of his priestly vocation, which he fulfilled on his escape and reunion with his family. He returned to Ireland and began preaching, teaching and baptizing all who would accept Christ. His spiritual memoir, the Confessio, is considered a great and moving record of faith put to work, and at the same time, a shining example of simplicity and sincerity as a mark of the true Christian.
Veneration based on the character of St. Patrick's life and his remarkable works began to spread throughout the British Isles as early as the 7th century. He was attributed with raising upwards of 30 people from the dead, with causing snakes to drown themselves rather than cross his path, and with causing food to appear before hungry people in desolate areas. One of the most famous legends claims that St. Patrick used the shamrock clover to explain the nature of the Holy Trinity to his students and this symbol is very often associated with him.
St. Patrick's patronages include protection from snake infestation and bites, and he is also a patron of engineers due to the large number of churches he constructed in Ireland.
St. Patrick's Breastplate Prayer (ca. 389-461 AD.)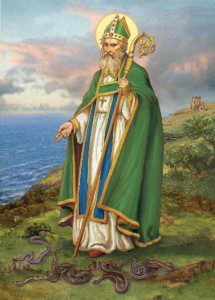 I bind unto myself today the power of God to hold and lead, His eye to watch, His might to stay, His ear to hearken to my need: the wisdom of my God to teach, His hand to guide, His shield to ward; the Word of God to give me speech, His heavenly host to be my guard.
Christ be with me, Christ within me, Christ behind me, Christ before me, Christ beside me, Christ to win me, Christ to comfort me and restore me, Christ beneath me, Christ above me, Christ in the hearts of all that love me, Christ in the mouth of friend and stranger.
I bind unto myself the Name, the strong Name of the Trinity, by invocation of the same, the Three in One, and One in Three, of Whom all nature hath creation; Eternal Father, Spirit, Word: praise to the Lord of my salvation, salvation is of Christ the Lord. Amen.
I bind myself to God's power to guide me, God's might to uphold me, God's wisdom to teach me, God's Eye to watch over me, God's Ear to hear me, God's way to lie before me, God's shield to shelter me, God's host to secure me…Against the snares of demons, against the seductions of vices, against the lusts of nature, against everyone who meditates injury to me, whether far or near, few or many.