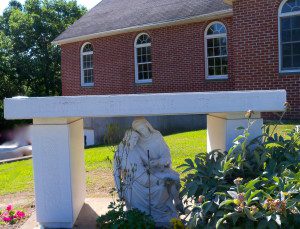 St. Patrick Cemetery is a sacred and final resting place of peace and dignity. There are two cemetery locations, 425 Pascoag Main St. in Pascoag, RI and 49 Emerson Rd, in Harrisville, RI.
The Pascoag Main St. cemetery has three sections dating from the early 19th century to the present day. The two oldest sections are Pascoag Cemetery (Burrillville Historical Cemetery No. 14), and St. Patrick Cemetery (Burrillville Historical Cemetery No. 15). A small stonewall surrounds all three cemeteries.
The second St. Patrick cemetery located on Emerson Rd., Harrisville dates to the early 19th century.
Individuals buried in St. Patrick Cemeteries were and continue to be a part of our Catholic community.
The chapel of the Resurrection is available in the event of inclement weather during a funeral.
Directions
St. Patrick Cemetery
425 Pascoag Main St. Rte. 107
Pascoag, RI 02859
St. Patrick Cemetery
49 Emerson Rd.
Harrisville, RI 02830
Pre-Arrangement
Purchasing a cemetery plot and planning your funeral before you actually need one is a step you can take today that can greatly ease the burden for your family following your death. The decisions following the death of a loved one can be overwhelming and difficult, especially when planning a funeral and burial in a short period of time or following an unexpected event. Making pre-arrangements is a surprisingly simple and affordable gift you can give to your survivors to ease their burden in the midst of grief.
Please review our pricing sheet to assist you in making this important plan.
Contact
St. Patrick Parish Office
45 Harrisville Main St.
Harrisville, RI 02830
Tel. (401) 568-5600  or 401-568-8280 (Our Lady of Good Help)
burrillvillecatholic@gmail.com
Office hours are 9:00 a.m. – 2;00 p.m. Monday – Thursday (Closed Fridays)