Please review and follow these regulations.
They enable us to provide a peaceful, beautiful, resting place for your loved ones.
Thanks for your cooperation!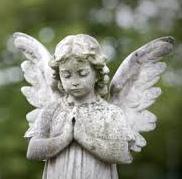 Cemetery visitation hours: Sunrise to Sunset

Potted plants, wreaths on stands, or easels may be placed for Mother's Day, Father's Day and Memorial Day weekends. These decorations may be placed one week prior to the holiday and should be removed one week after the holiday.

Evergreen wreaths, easels and floral logs may be placed for the Christmas season beginning in the first week of Advent through the month of January.

Easter decorations may be placed one week before Palm Sunday and remain until Monday after Pentecost Sunday.

Flowers, live

or artificial, in cemetery-approved vases, must be no more than 10" out from the base of the monument or head of the grave. Cemetery personnel will remove any flowers (without notice) deemed unsightly at their discretion.

Religious statuary, not to exceed 5 per headstone or 24" in height, is allowed.

Properly maintained vigil lights are allowed.

Flags for Veterans may be displayed throughout the year. Cemetery personnel will remove damaged, tattered or faded flags. Flags placed by the VFW on or near Memorial Day will be replaced as needed.

All bronze markers, including those for Veterans, will be placed at the foot of the grave and must be flush with the ground.

The Cemetery Manager must approve size and artwork of monuments prior to installation as well as flat markers for baby and cremation monuments. Gravesites must be paid in full before monuments are installed.

Repair to monuments damaged by nature, vandalism or willful acts are the responsibility of the lot holder. C

emetery management will take reasonable measures to protect graves and property.
Please, none of the following:
Pets are not allowed on cemetery property, excepting service dogs.
DOG WALKING IS NOT ALLOWED.

No Parking on grass.

No Crushed stone, wood chips, or shells.

No containers that can hold standing water (glass jars, cans etc.).

No Trees, bushes or shrubs, live or artificial.

No Flower boxes, glass urns or glass vases.

No fencing or border enclosures.

No lawn ornaments, anchors, balloons, statues and novelties.
St. Patrick cemeteries are consecrated grounds. Therefore, these rules and regulations are intended to promote safety, improve the overall appearance of the cemetery, protect the natural habitat around the cemetery and to simplify maintenance. Your cooperation will help preserve the beauty of the cemetery and the dignity and respect we give to the deceased. St. Patrick Cemetery takes pride in providing a place of comfort in times of grief as you visit and pray by the grave of a loved one.